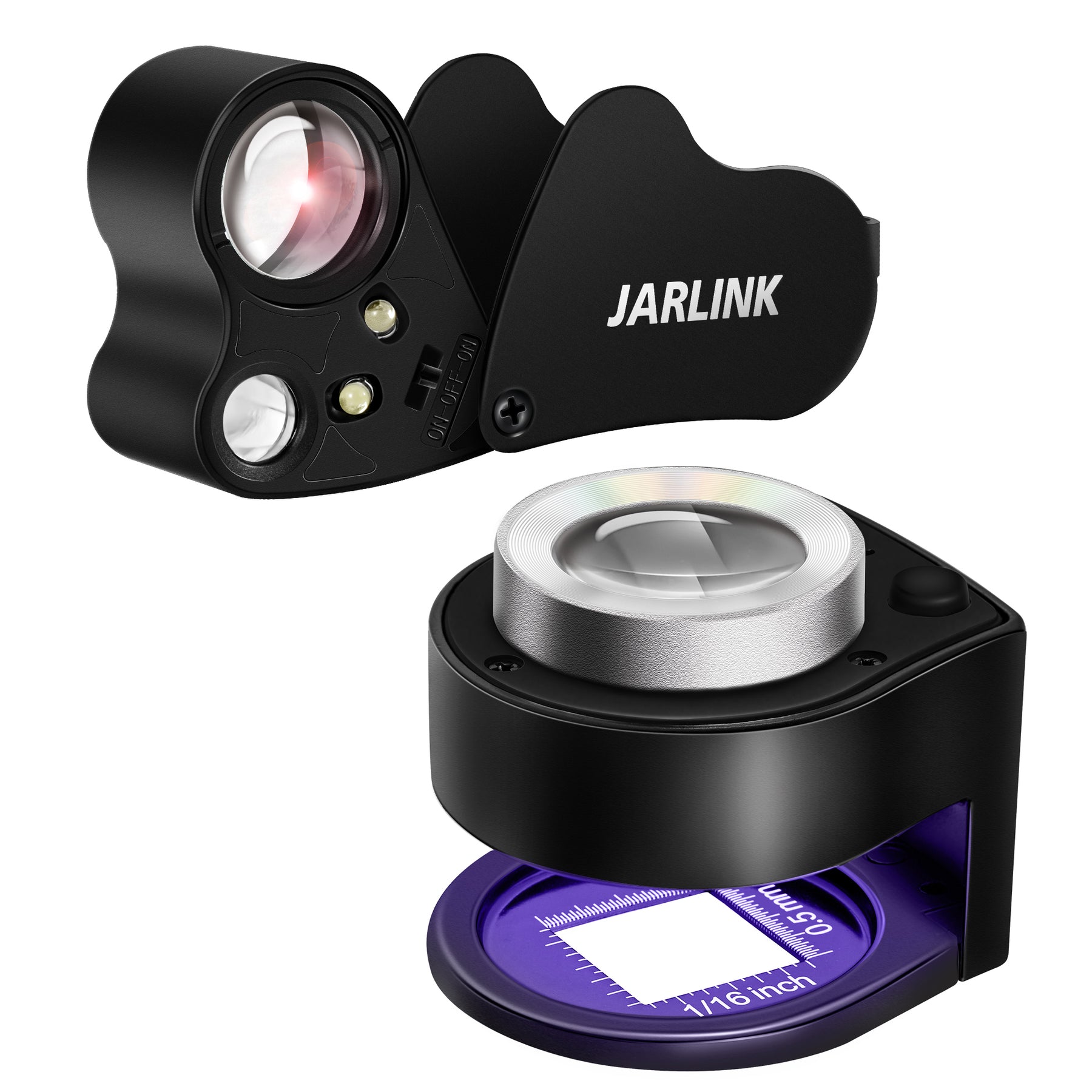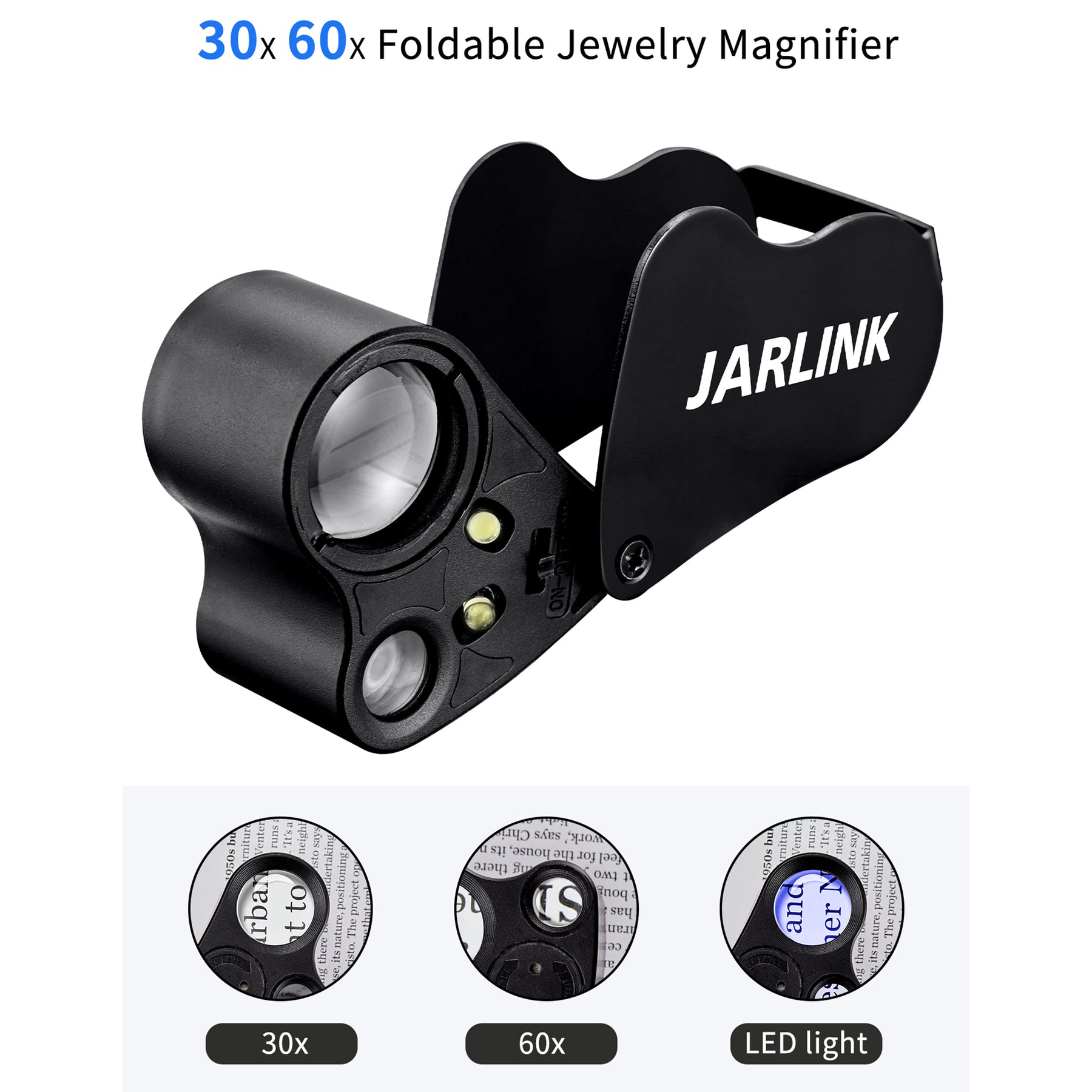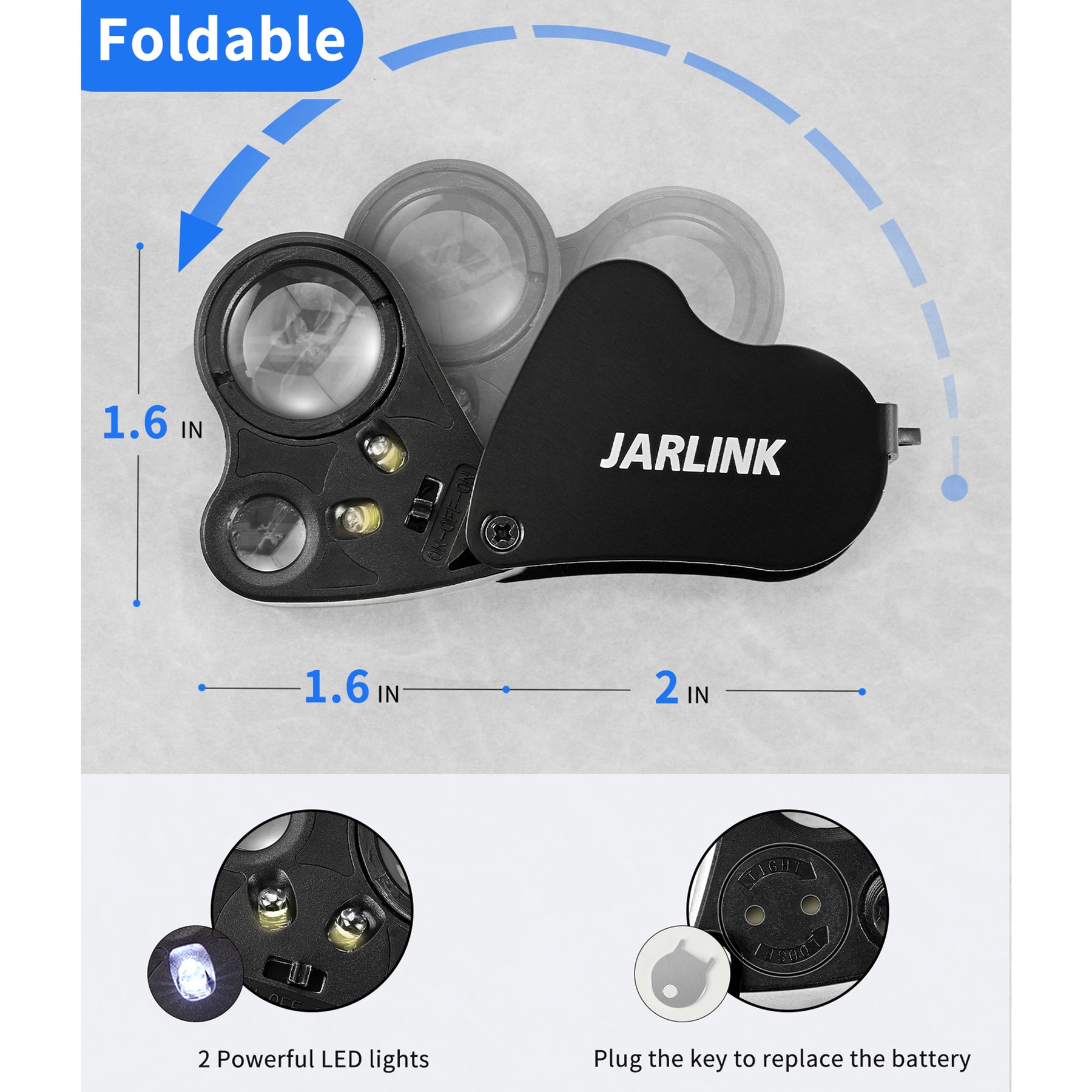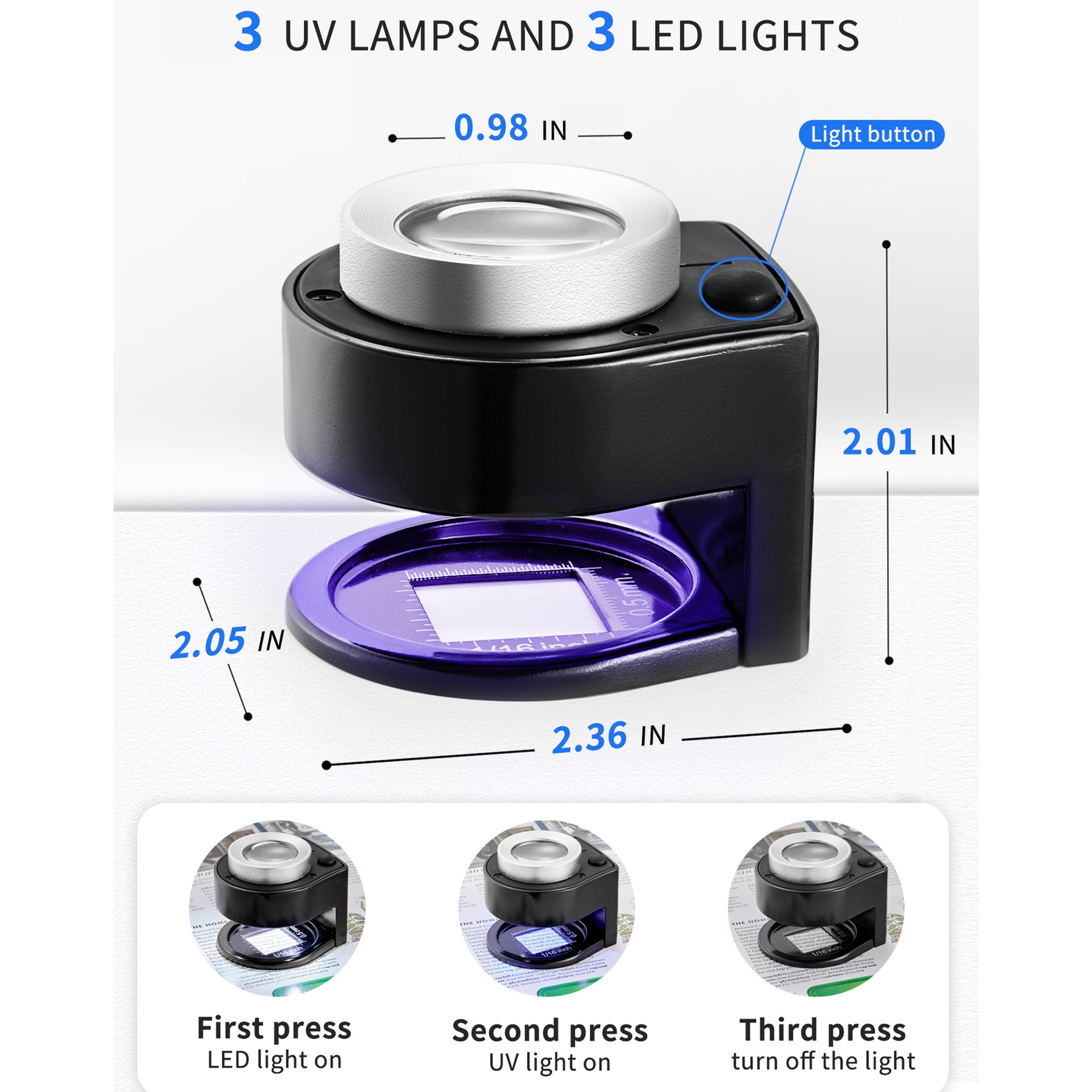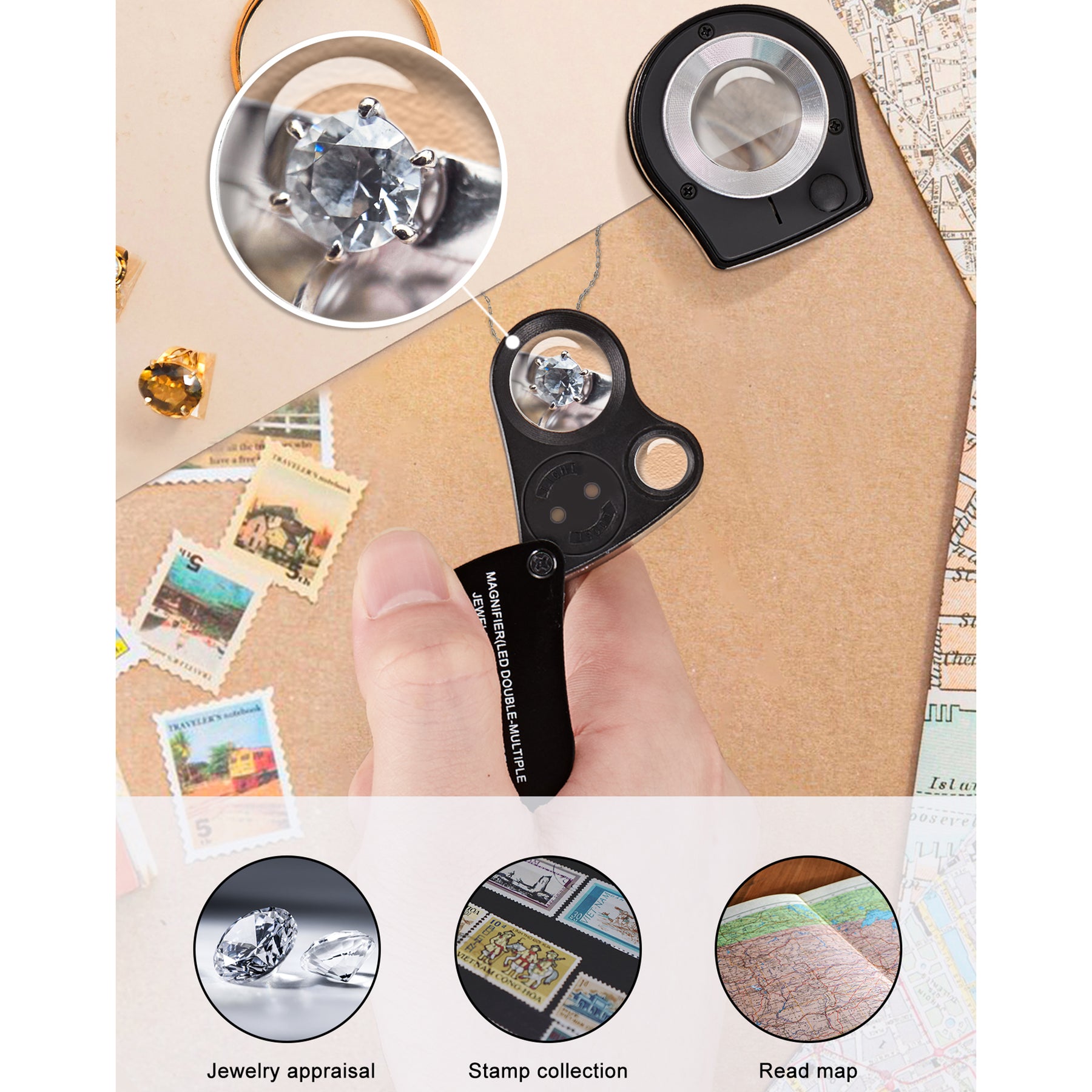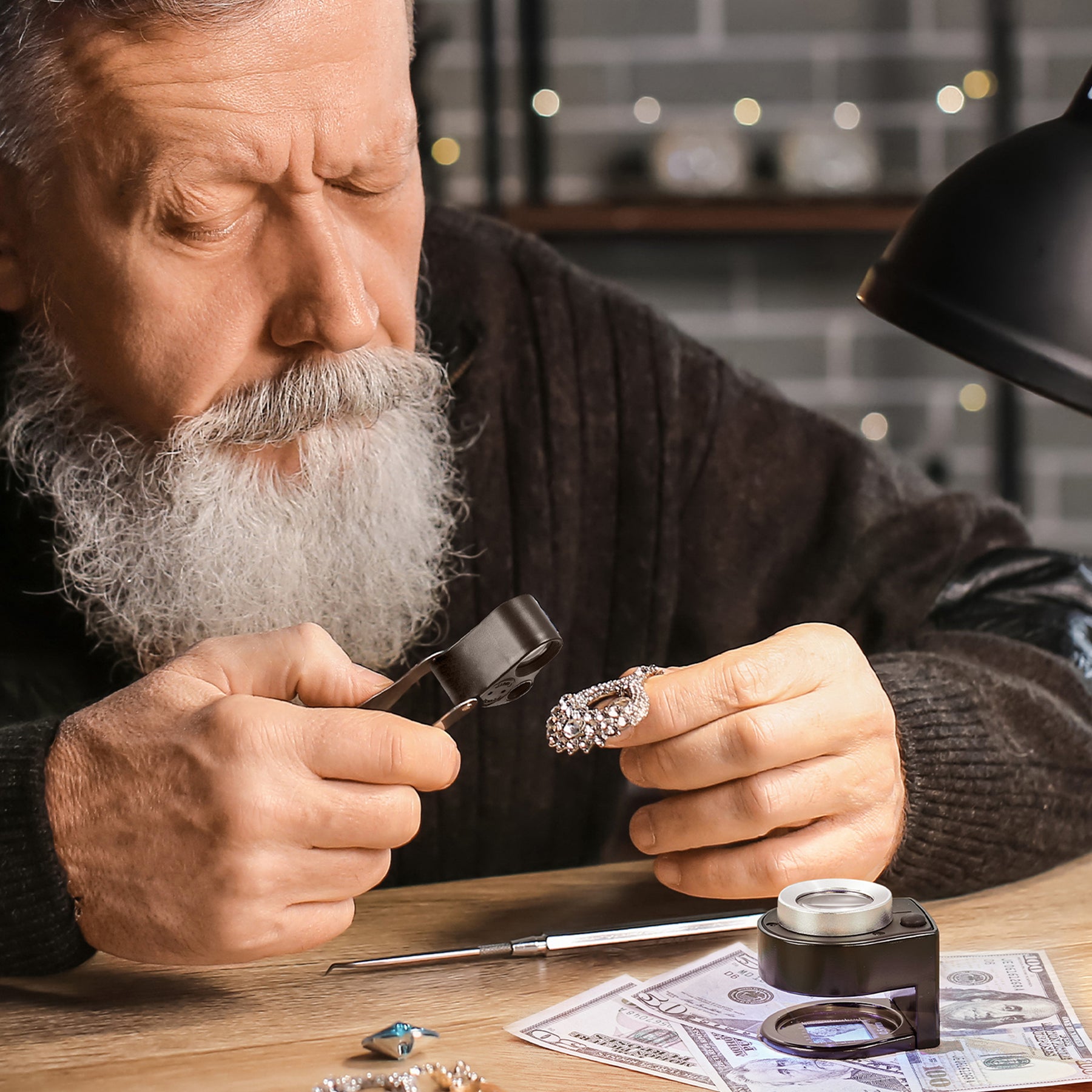 JARLINK 2 Pack 30X 60X Jewelers Loupe, Foldable Jewelry Magnifier
WHAT YOU GET: The package includes 2 pack jewelers loupe, a 30X 60X fordable jeweler loupe with LED light, and a 30X desktop loupe magnifier with 3 LED and 3 UV lights equipped with a soft leather case to protect it from damage

30X 60X JEWELRY MAGNIFIER: The foldable loupe is equipped with two separate lenses and LED light for different degrees of magnification, primary lens: 30x22mm, supplementary lens: 60x12mm. The lens should be very close to the object to see the details. If the lens is far away from the item, it will be blurred or an inverted image. Battery Model: LR1130 Voltage: 1.5V

30X DESKTOP LOUPE MAGNIFIER: Made of solid zinc alloy material with black paint finish. It's quite durable and not easy to damage. The jewelers loupe has a clear lens, you just need to put the items in the middle of the scale then the lens will fix at the sharpest position. There are 6 lights on the loupe, 3 LED lights for observing items in low-lit areas, and 3 UV lights to help you check banknotes. Battery Model: LR927 Voltage: 4.5V

WIDE APPLICATION: These illuminated jewelers loupe magnifiers are great for observing gems, jewelry, coins, stamps, rocks, watches, antiques, models, and so on, assist you in distinguishing and seeing objects more clearly.

DURABLE & LIGHTWEIGHT: The desktop jewelry eye loupe is made of solid zinc alloy with a black paint finish. The foldable loupe is made of durable aluminum and plastic housing. It's quite durable and not easy to damage. These magnifiers are really lightweight, only 5.82 oz and 1.44 oz, it's very convenient to carry at hand or store anywhere.
Worldwide free shipping We use DHL Express for worldwide shipping. Delivery time is usually 2-4 working days. NB: For Countries outside EU buying items ex. VAT, be aware you have to pay import taxes according to the laws of that specific country. In case of returns we are not able to return any duties or taxes, as this is paid to and handled directly between you (the customer) and your country. Return policy If you want to change a product into another size, color etc, please contact us so we are able to reserve the new item in our stock immediately. You are always entitled to an exchange or refund within 30 days after you have received your package, as long as the item has not been used. All original packaging, price labels etc. shall be returned with the product without having been tampered with.
We have linked to Amazon.com. Just click the button "Buy it on Amazon", and then place the order on Amazon.
Please contact customer support at support@ijarlink.com.
You can send email to our email address support@ijarlink.com. Or you can contact us on our official Facebook and Instagram.