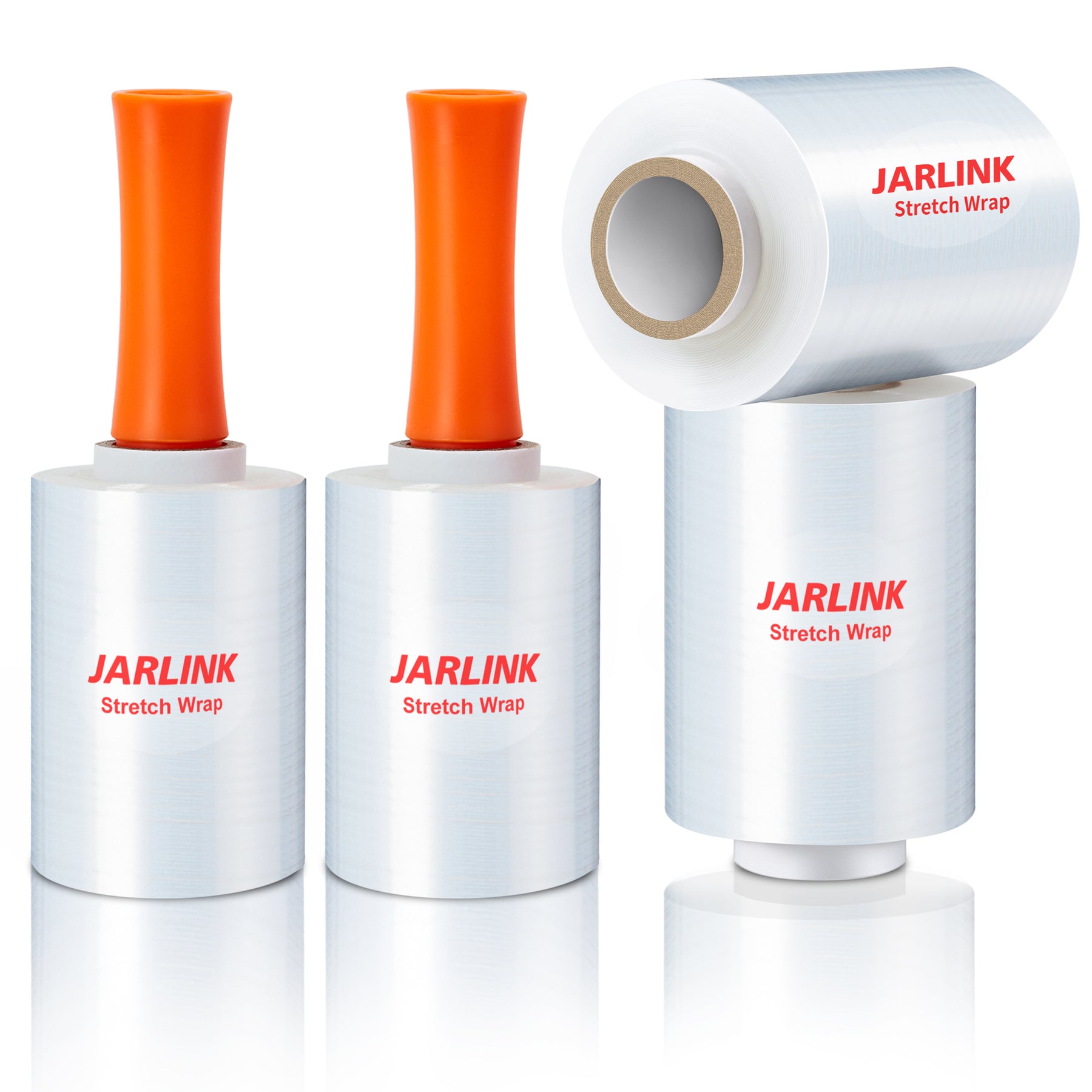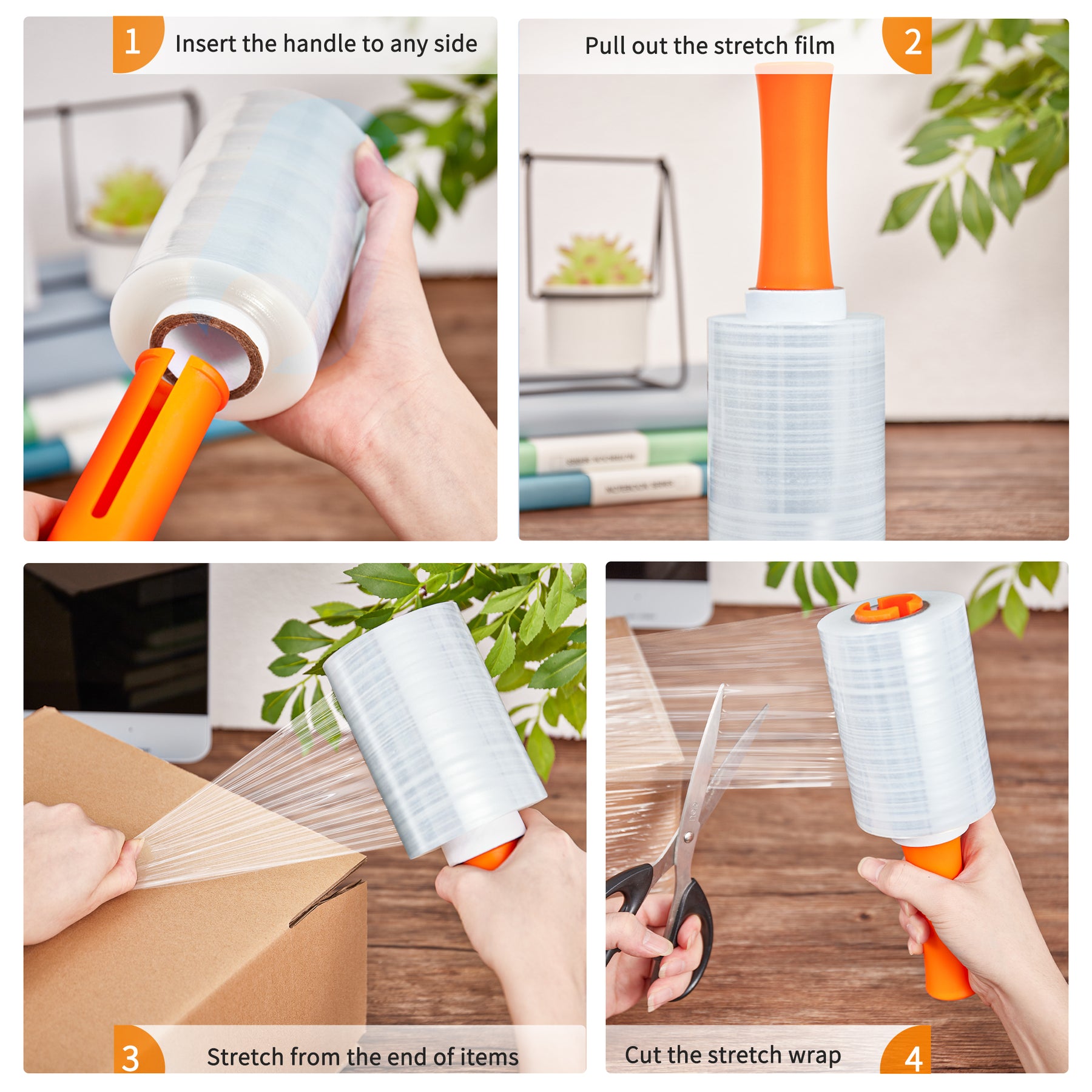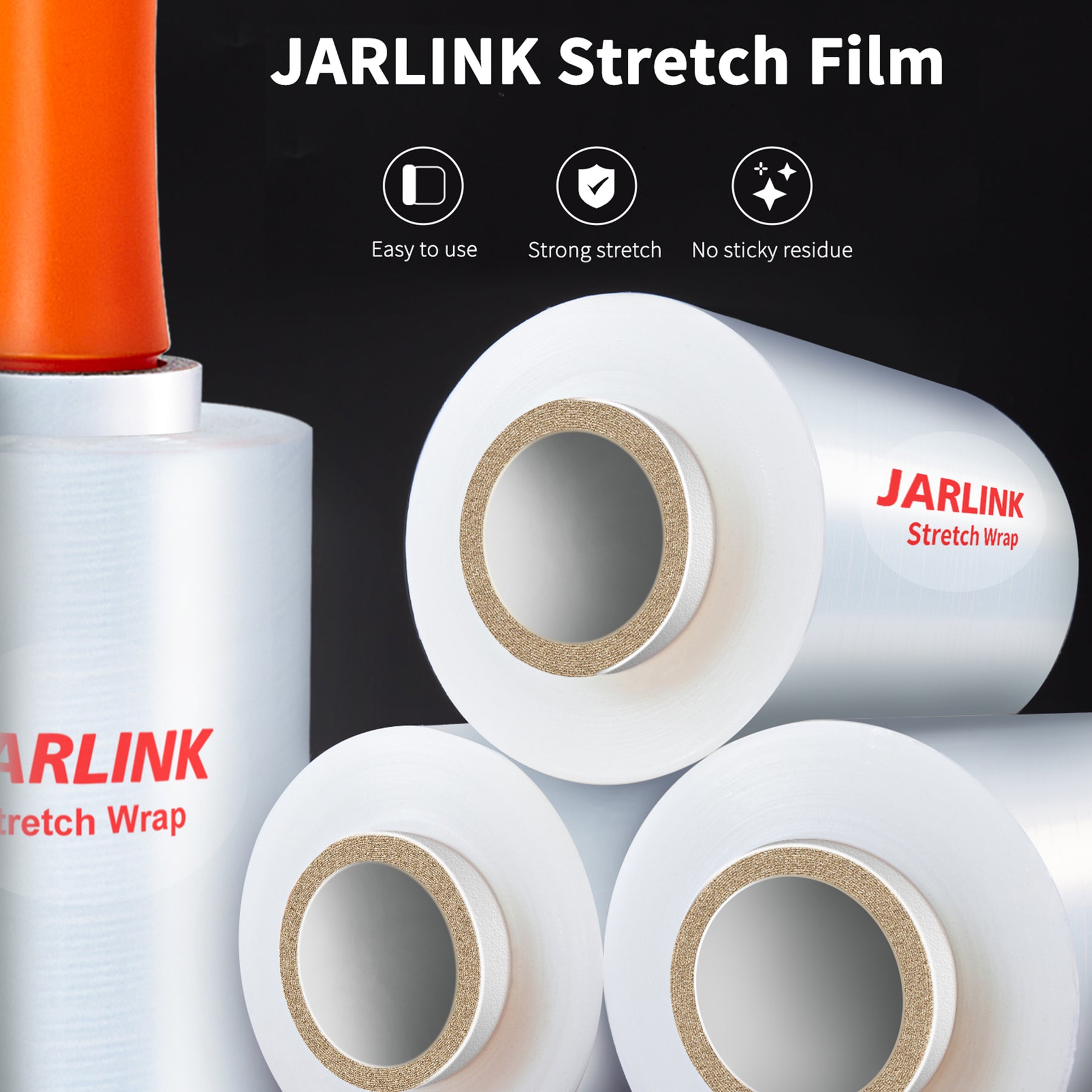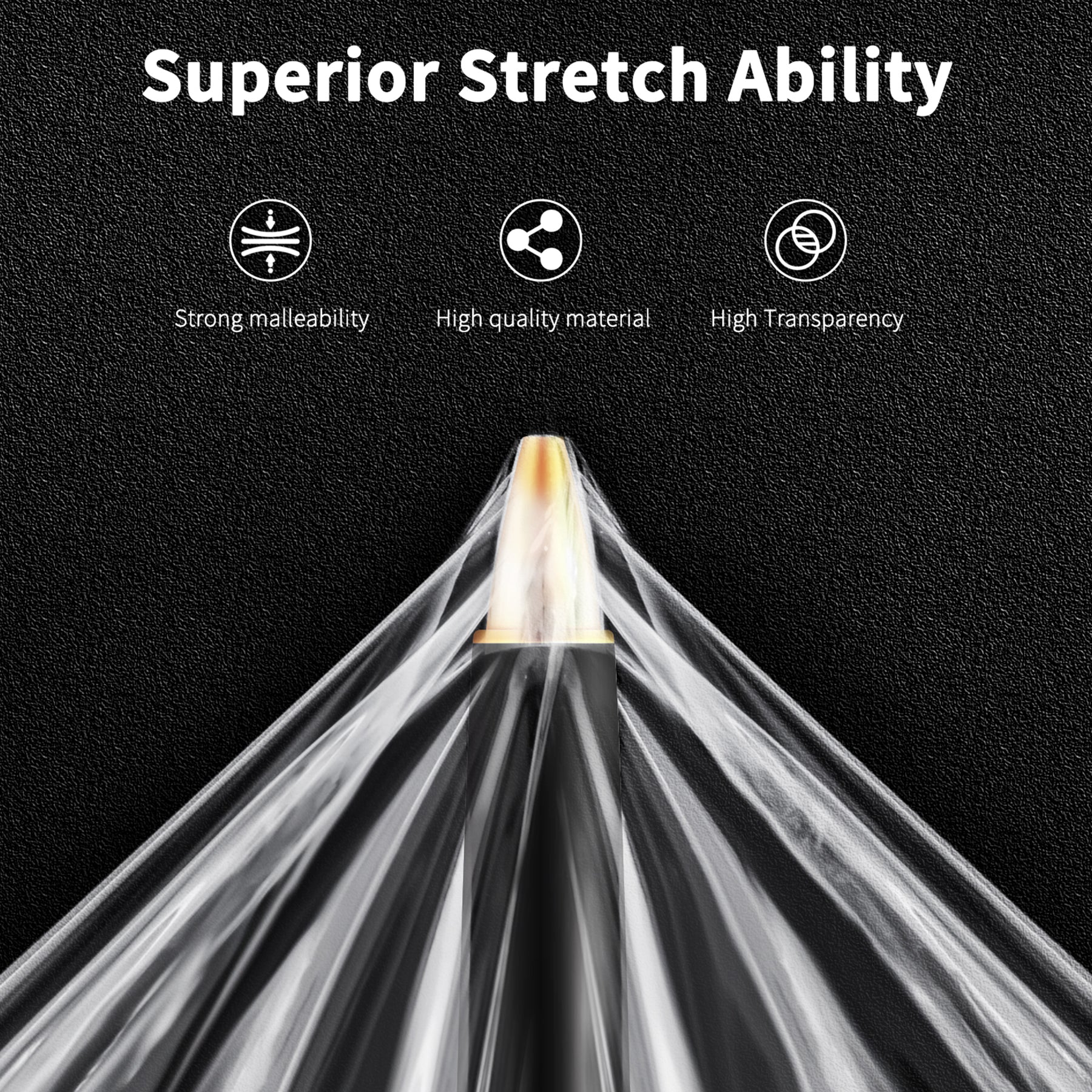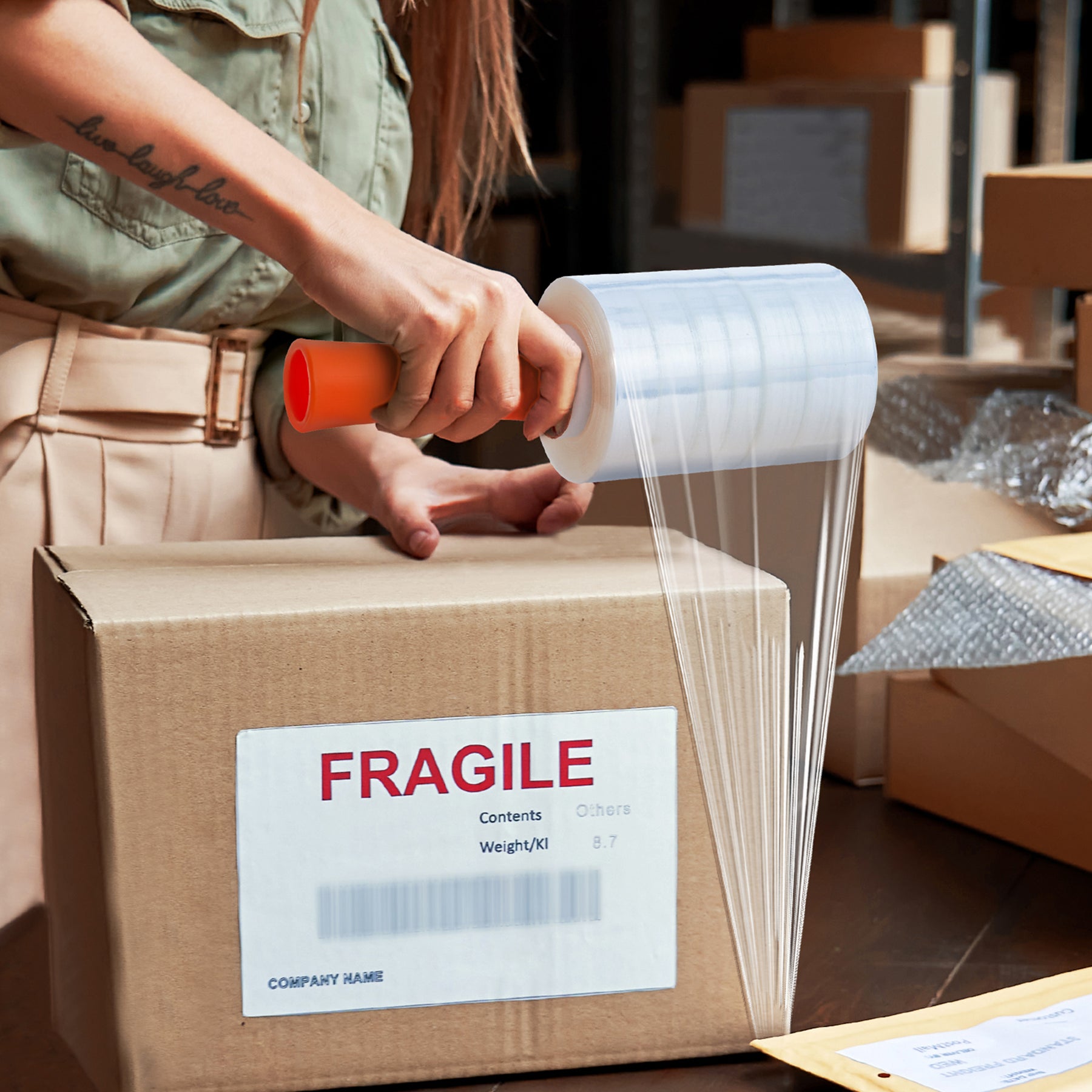 JARLINK 4 Pack Plastic Film Roll with Plastic Handles, 60 Gauge Thick, 5" x 1000ft Plastic Pallet Film, Industrial Strength Stretch up to 500% Stretch for Moving, Packing, Wrapping, and Shipping
4-Pack Clear Stretch Wrap Film: Each 5" x 1000ft roll contains 2 rolling plastic handles. This mini moving wrapping plastic roll has industrial strength and durability, which ensures your valuables stay safe while in storage, moving, or during shipment.

Reusable Rotating Handle: Specially designed with reusable rolling handles, As long as the handle is inserted into the holes on both sides of the moving wrap, you can easily use it for packaging items without straining your wrist.

Excellent packaging Protector: Plastic stretch film comes with up to 500% stretch ability, 60 Gargue is thicker to ensure your valuables stay safe while in storage, moving, or during shipment. Protection from dust, moisture, and rough handling.

No Sticky Residue: Unlike tape or other wrapping materials, our plastic shrink wraps have glossy and slippery outer surfaces and won't leave any residue behind. Ideal for all your moving and storage.

Multi-Purpose Wrapping: This portable plastic film is suitable for industrial and home use. Whether you need to wrap furniture, cargo, suitcases, or any object featuring odd shapes or sharp corners, which can secure your valuables. The protective layer also prevents stains, spills, rips, and scratches.
Worldwide free shipping We use DHL Express for worldwide shipping. Delivery time is usually 2-4 working days. NB: For Countries outside EU buying items ex. VAT, be aware you have to pay import taxes according to the laws of that specific country. In case of returns we are not able to return any duties or taxes, as this is paid to and handled directly between you (the customer) and your country. Return policy If you want to change a product into another size, color etc, please contact us so we are able to reserve the new item in our stock immediately. You are always entitled to an exchange or refund within 30 days after you have received your package, as long as the item has not been used. All original packaging, price labels etc. shall be returned with the product without having been tampered with.
We have linked to Amazon.com. Just click the button "Buy it on Amazon", and then place the order on Amazon.
Please contact customer support at support@ijarlink.com.
You can send email to our email address support@ijarlink.com. Or you can contact us on our official Facebook and Instagram.